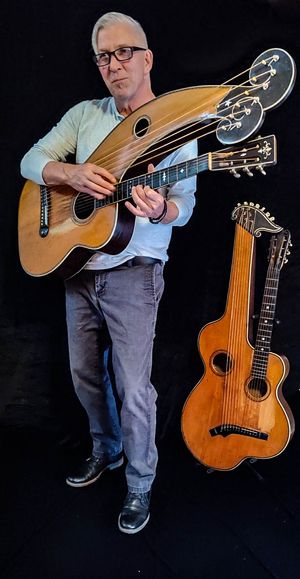 BIOGRAPHY
I started my journey playing guitar as a sixteen year old. I was a rocker - ha! The energy of rock and roll was commensurate with my vibrating frequency (loud and fast) that much was for sure. My Dad (Gene L. Hobbs) and I made a deal - he said "I'll let you get a guitar but only if you take lessons -  and. I'll pay for the lessons" WOW - no idle threat from either side, soon after a friend - David Sewell, and I made a trade; my 1966 Dodge Dart car for his electric Ovation Viper guitar and a Peavey Pacer amp! Then Dad took me to the Fort Henry Mall - in Kingsport TN - where  I signed up for guitar lessons with Les Dotson, a local guitar teacher from Alabama but has lived all over. He turned me on to everything - life - music- respect! We're friends to this day - 41 years later!   So I spent the next 17 years immersed in finger style guitar playing and gigging, in multiple styles, prior to embarking on my Harp Guitar journey! 
I first discovered the Harp Guitar through a live performance by the late Michael Hedges at Red Rocks in CO.  This would have been in the early 1980's  - fast forward to 1998 when I saw the inimitable Stephen Bennett perform on his great grandfathers 1909 Dyer Harp Guitar (Big Momma) at a local coffee house in Roanoke, VA.  It was then the validation bell started ringing loud and clear for me.  Soon after this life changing moment I sold every guitar I had and purchased my first Harp Guitar.  It was a Dyer harp guitar made in 1917 by the Larson Brothers , a Style 7 which is modestly fancy.  At the time I was discussing a harp guitar build with luthier Pete Howlett -  the Larson harp guitar showed up and both he and I agreed it's always best to have an original so we canned the project. I didn't know much about the Larson Brothers at the time but all of that was about to change!! 
A couple of decades later I am fortunate enough to have garnered praise from peers, rockstars, luthiers and dedicated music  lovers such as yourself.
I am featured in a book on the Larson Brothers luthier artistry and another book, Building Stories One Guitar At A Time - The Story of Emerald Guitars by Stacy Blevins  featuring  the carbon fiber work of Alistair Hays' and his team at Emerald guitars in Ireland.  Both are coffee table type books w/ tons of info and great photos. I'm very honored to have been a part of each project!
I've recorded several CD's of harp guitar "only" music, most of which you can find on this site - just click on the above MUSIC icon to check out! 
I've even met my guitar hero John Renbourn!!  Here's the story; I played my harp guitar for him at a gig of his in Floyd VA, place called Oddfellas. He was excited to hear the Harp guitar and after a few notes, he tells his friend  "oh and he can PLAY it too!" Upon our second meeting he says "Hey Stace, did you bring those lovely old Dyers with you?! " , of course I had........ and I opened up for him and Clive Carroll that evening! We hung out at a local restaurant/pub, the Pine Tavern, after the show having a drink at the bar while local blues band was playing.  We chatted and got along for about an hour or so. Never saw him again after that. He passed away in March 2015 at 71. So yeah, I'm stoked and grateful in having the experience and feel very fortunate!
It's been quite the journey so far; I feel fortunate, in my small way of serendipity and look forward to creating my best body of work yet!
Peace and Love in Music! Stacy 2023